Many of you know that YA-Sisterhood is actually 3 real sisters. We've all at points run the blog depending on what is going on in the lives of the other 2. You know that pesky thing called life that seems to always get in the way!:) That's okay though because I wouldn't change it for anything. HOWEVER, I'm not sure if you know that we all owe our love of books to our mother! She was our English teacher all throughout high school! And, she also contributes to our blog! Not sure that YA Motherhood has the same flare though! Today is a review from our mom. It's 2 reviews from an older book series, but I know you guys will recognize it! Plus, Patch is always a huge contender in our Crush Tourneys! So let's show Patch and our mom a little love!!!
Crescendo (Hush Hush #2) and
Silence (Hush Hush #3) by Becca Fitzpatrick
Simon and Schuster
Reviewed by: YA Sisterhood's Sweet Mom
Nora Grey's life is still far from perfect. Surviving an attempt on her life wasn't pleasant, but at least she got a guardian angel out of it. A mysterious, magnetic, gorgeous guardian angel. But despite his role in her life, Patch has been acting anything but angelic. He's more elusive than ever (if that's possible) and what's worse, he seems to be spending time with Nora's archenemy, Marcie Millar.

Nora would have hardly noticed Scott Parnell, an old family friend who has moved back to town, if Patch hadn't been acting so distant. Even with Scott's totally infuriating attitude, Nora finds herself drawn to him - despite her lingering feelings that he is hiding something.

If that weren't enough, Nora is haunted by images of her murdered father, and comes to question whether her Nephilim bloodline has anything to do with his death. Desperate to figure out what happened, she puts herself in increasingly dangerous situations to get the answer. But maybe some things are better left buried, because the truth could destroy everything - and everyone - she trusts.
If a crescendo is a steady increase in intensity, then
Becca
Fitzpatrick aptly
named her second book in the HUSH, HUSH
Series. Each page seems to be filled with scenes of Nora pushing Patch away or discovering secrets of her past—each a closer step to
increased
disaster.
The second
book
begins where the first ends. Patch has given up his chance to be human in exchange for Nora's life. Now he has been assigned as her Guardian Angel. Perfect
! H
e protects her
,
which means he has to stay by her side, and we can never have too much Patch! But showing romantic feelings for her is a big no
no
. In fact, being caught by the Archangels could result in a trip to hell for Patch. So masking those feelings with attentions toward Marcie, Nora's archenemy
,
causes the green-eyed monster to roar inside Nora, so much so that she denounces Patch as her Guardian Angel. Well, Fitzpatrick
did call it CRESCENDO
, so what do you expect?
But the ultimate intensity is
in
never knowing who to believe. Is Nora's father really dead? Who really killed him? Why is Scotty the
Hottie
back in Nora's life? What secrets are being hidden by her mom?
Ho is trying to kill Nora now?
AND the ultimate question: Does Nora lose Patch if she tells him she loves him?
Fitzpatrick definitely follows the old adage: And the plot thickens!
But
sprinkled in this suspenseful plot is
Fitzpatrick
's
unique creativity when it comes to teen angst and life in general. I particularly loved her marble analogy to
determining your social status in the town. A marble would have a difficult time rolling uphill to the high class, yet it steadies at middle class, and downhill, well, there is no problem rolling down to the bottom.
So what complaints did I have?
Only one.
Yeah, it adds to the crescendo when Nora keeps pushing Patch away, but, DANG IT! Does she have to make us suffer from the loss of his presence, too? I need more Patch! So that's why I'm quickly moving on to Book Three: SILENCE. Need my Patch fix!
**************************************************************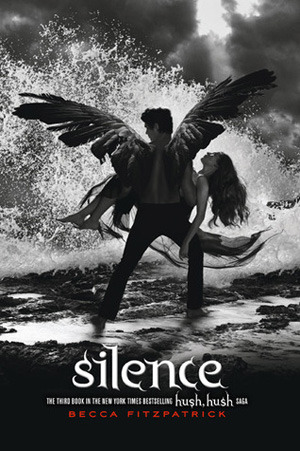 Nora Grey can't remember the past five months of her life. After the initial shock of waking up in a cemetery and being told that she has been missing for weeks - with no one knowing where she was or who she was with - she tried to get her life back on track. Go to school, hang out with her best friend, Vee, and dodge mom's creepy new boyfriend.
But there is this voice in the back of her head, an idea that she can almost reach out and touch. Visions of angel wings and unearthly creatures that have nothing to do with the life she knows.
And this unshakable feeling that a part of her is missing.
Then Nora crosses paths with a sexy stranger, whom she feels a mesmerizing connection to. He seems to hold all the answers...and her heart. Every minute she spends with him grows more and more intense until she realizes she could be falling in love. Again.
Best one yet! How could you forget a guy like Patch? But that is just what Nora Grey has done. Of course, it's not her fault that she experienced a harrowing kidnapping by Hank and his minions. That's how the last book ended, but Nora has no recollection of any of it since her mind has been wiped of the past five months—that memory loss includes not only what happened in book two, but also book one. So Nora is Patch clueless….completely!
If that doesn't keep you turning pages to rectify that horror, Fitzpatrick has a few more shockers waiting to spring on you. Everyone is covering the memory loss, even her best friend Vee. You want to scream, "JUST TELL HER!" But Fitzpatrick drags us through the anguish….but I'm not mad….because when Patch really does re-enter Nora's life, it is AMAZING!
Wow! What an ending, but guess what? IT'S NOT THE END! Now I'm quickly grabbing FINALE off the shelf!
Buy Links: (Just click on the picture)