Welcome to The YA Sisterhood's 3rd Annual YA Crush Tourney! We hope that through this all you will meet a lot of book loving people, discover new books, and of course be introduced to many more dreamy crushes!
Be aware that we have tried to keep all the posts pretty general, but there might still be some spoilers. If the spoiler is big, it will be marked. However, still proceed with caution!
Matches will run for 24 hours, 12am to 12am every Monday, Wednesday and Friday. For more information please check out our Tournament Page.
*~*~*~*~*~*~*~*~*~*~*~*~*~*~*~*~*~*~*~*~*~*~*~*~*~*~*~*~*~*~*
THE WINNER OF MATCH #1 IS PATCH!
Maxon from The Selection by Kiera Cass
First we would like to introduce ourselves. We (Bridget, Emmy, Kayla and Michelle) are so excited to be advocates for the wonderful Prince Maxon from The Selection Series by Kiera Cass. We are all reviewers of YA Fiction for the awesome blog Dark Faeire Tales (darkfaerietales.com). This blog is dedicated to reviewing YA/NA fiction books (primarily paranormal) and spreading the news of upcoming books coming out or making it in the movie world.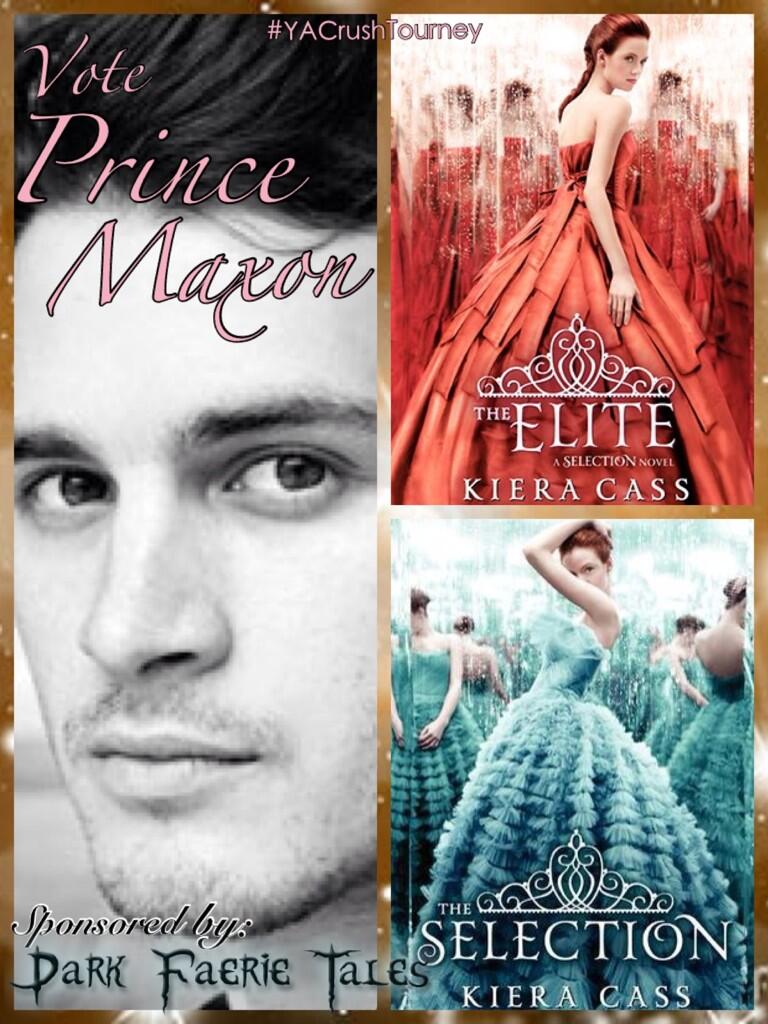 It is custom that whenever the heir to the throne in Illea is a boy, a Selection is held. In this Bachelor-esque competition, 35 girls are chosen to fight for the prince's heart - and the crown. Prince of Illea, Maxon Schreave, must look for a wife out of the 35 advisor-chosen girls from all kinds of backgrounds. Despite his reluctance and doubt that he would actually find "true love" in this political game, Prince Maxon is pleasantly surprised when an unusual girl steals his heart. Trust us when we say he is definitely a bachelor worth winning.
Let's start off with the easy stuff: Prince Maxon is smart, kind, funny and all the "golden guy" characteristics that every girl swoons for. Now, as cliche as all of that sounds, this is the foundation of Maxon's personality. But what makes him stand out from every other good guy out there is his deep loyalty, affable/witty banter and compassion. We can always depend on Maxon to lighten the mood with light hearted jokes or sarcastic comment, but the most memorable conversation was Maxon's bet with America Singer (the reluctant true love). *TINY SPOILER AHEAD* During breakfast with all of the Selected, Maxon bets that the food is so delicious at the castle that America's sister would shed tears of joy if she tasted it; if he wins then America would have to go on a walk with Maxon, but if he lost, America can wear jeans on the weekends. Even with his funny personality, Maxon is also the most compassionate person in the entire series - and possibly in anything we've ever read. He cares when nobody else does and forgives when the king refuses to. Still not convinced to vote for him? Keep on reading.
~~~
"Forgive what? Our stupid fight? It's already forgotten. Your feelings being a little slower than mine? I'm prepared to wait," he said with a shrug. "I don't think there's anything you could do that I couldn't forgive. Need I remind you of the knee to my groin?" The Selection pg 321
"It wasn't like I made his world better. It was like I was his world. It wasn't some explosion; it wasn't fireworks. It was a fire, burning slowly from the inside out." The Elite pg 298
He's swoony. 'Nuff said. Well since there's no exact picture of him, you'll just have to be satisfied with Michael Malarkey. (This picture is the closest we can get since he's playing Maxon in the CW's version of The Selection currently in the middle of filming.)
~~~
"His hair was honey colored, and his eyes were brown. He kind of looked like summertime, which I guess was attractive to some people. His hair was cropped short and neatly done, and his grey suit was perfectly fitted to him." The Selection pg 40
"I had been raised a musician, but I was surrounded by artists. I'd once seen a sculpture that was hundreds of years old of an athlete throwing a disk. I'd thought to myself at the time that only an artist could do that, make someone's body look so beautiful. Maxon's chest was as sculpted as any piece of art I'd ever seen." The Elite pg 284
As a prince, one must be a competent diplomat. Maxon has that down pact. He displays wonderful skills in negotiating and leading. Also, if listening could be called a talent, Maxon has it down to a T. There isn't a single thing America can't talk to Maxon about (besides their relationship) and even if he doesn't have any advice, he's always willing to lend an ear.
~~~
"Maxon's face was a shallow echo of my own pain. He looked absolutely brokenhearted for me. More than that he looked angry. 'I'm sorry America. I don't…' His face shifted a little 'Is this a good time to pat your shoulder?'" The Selection pg 196
If you're still not confident you should vote for Prince Maxon, let's summarize his best characteristics: compassionate, funny, loyal, smart, diplomatic, handsome... But for one second, let's drop all pretenses and forget that this is a competition and we're only supposed to point out all of our boy's good qualities. But it's really Maxon's flaws and negative characteristics that make him stand out above any other.
He can be selfish.
"Honestly? I was trying to give the other girls a sporting chance. From the beginning, I've really only looked at you, wanted you." I blushed. "When you told me how you felt, I was so relieved that a part of me didn't believe it. I still have a hard time accepting that it was real. You'd be surprised how infrequently I get something I truly want." The Elite pg 79
He can be naive.
"What have I done to offend you? Did I not just give you the very thing you asked for?" He was genuinely confused by my response. I suppose he expected us to adore him and thank our lucky stars for his existence. The Selection pg 113
He can be utterly frustrating.
He shook his head, irritated, and stood. "Fine." He walked across the room in quick, angry strides. "I'll just go see what Kriss is doing." The Elite pg 244
But it's how he reacts and pushes on when something bad happens or when he's wrong that makes this boy the best YA crush we know.
~*~*~*~
And if you won't take our word for how amazing Prince Maxon is, here's America's view:
"And I couldn't poke fun at him, not when I had a chance to say what I'd really started to think now that he was my friend. I couldn't joke about the person who'd saved me from facing absolute heartbreak at home, who fed my family boxes of sweets, who ran to me worried that I was hurt if I asked for him... Maxon Schreave is the epitome of all things good. He is going to be a phenomenal king. He lets girls who are supposed to be wearing dresses wear jeans and doesn't get mad when someone who doesn't know him clearly mislabels him. Whoever he marries will be a lucky girl. And whatever happens to me, I will be honored to be his subject."
~*~*~*~
***********************************************

Patch from Hush Hush by Becca Fitzpatrick

Hello all you beautiful people, my name is Danielle from
Consuming Worlds
and I am here today to talk to you all about this wonderful Angel named Patch Cipriano. If you know the Patch in which I am referring than you already know all the reasons Patch is so yummy and deserves your vote!
If you haven't heard of Patch well then sit back and read along and allow me to tell you--and
show
you all the reasons that Patch should have your vote for this YA Crush Tourney!!! Shall we begin???
For those who don't know, Patch is from the
Hush, Hush
Series by Becca Fitzpatrick and let's just say that he brings the saying tall, dark and handsome to a whole new level!! Just look at him and tell me you don't agree.
So, what is it about Patch that makes him so desirable? Well besides his looks......(because we all know he should win just on that factor alone!!!)
Patch really is a man who has it all. He has attitude, he is fluent in snark and sarcasm, he has an air of danger about him, he is mysterious, he's a romantic, he's dedicated, he's a tease, he's lethal, he makes jeans and t-shirts look good, he can fly, he drives a motorcycle, he looks like a God--his body is chiseled in all the right places, and probably my most favorite.......he's an Angel!!! Need I say more???? No I don't have to say more, but I will. Actually I will allow Patch's words to sway you over to his side. He will give you all the reasons you need to vote for him! But before I allow him to sway you with his words, I am going to just show you another reason he should be your choice.....Just look at him.....(you might want to wipe that drool. *points to the corner of your mouth* Yea, right there. Oh, yup you got it!)
Earlier I said that Patch was a tease and sarcastic. Here are just a few ways that Patch demonstrates his ability to make any girl swoon. Now I feel that I must warn you, reading these quotes may cause you to drool, swoon or all out fangirl. So don't say I didn't warn you!
"You should go," I breathed. "You should definitely go."
"Go here?" His mouth was on my shoulder. "Or here?" It moved up my neck. (Hush, Hush)
"You dress to impress." I said approvingly.
"No, Angel." He leaned in, his teeth softly grazing my ear. "I undress to impress." (Finale)
"Nice costume," he said.
"Ditto. I can tell you put a lot of thought into yours."
Amusement curled his mouth. "If you don't like it, I can take it off." (Finale)
"I get my very own guardian angel? What, exactly, is your job description?"
"Guard your body." His smile tipped higher. "I take my job seriously, which means I'm going to need to get acquainted with the subject matter on a personal level." (Hush, Hush)
Patch has the ability to turn anything into a sexual innuendo, from sarcasm to snark, Patch has it, and knows how to use it!
"All I can think about is bed."
"We're sharing the same thought."
"You're thinking about bed too?" But Patch had told me that he rarely slept.
"I'm thinking about you in my bed." (Finale)
He's dark and mysterious with an air of danger.....
"If I wanted you dead five minutes ago, you'd have died five minutes ago." (Hush, Hush)
"I personally believe Patch scared the pants off normal, and it took off running for the far side of the world." (Finale)
"I move in mysterious ways."
"God moves in mysterious ways. You move like lightening-here one moment, gone the next." (Silence)
But the best thing about Patch, is that underneath his rough and hard exterior, underneath all that snark, sarcasm and teasing, lies the heart of an incredible man who would do anything for the girl he loves. Just to show a little of his romantic side here he is to make you swoon.
"I know I can't feel your touch, but I feel your love Nora. Inside me. It means everything to me. I wish I could feel you the same way you feel me, but I have your love. Nothing will ever outweigh that. Some people go their entire lives never feeling the emotions you've given me. There is no regret in that." (Finale)
"I believe in destiny Angel. I believe every choice I've made has brought me closer to you. I looked for you for a very long time. I may have fallen from heaven, but I fell for you."
"I want to wake up with you every morning and fall asleep beside you each night." Patch told me gravely. "I want to take care of you, cherish you, ad love you in a way no other man ever could. I want to spoil you--every kiss, every touch, every thought, they all belong to you. I'll make you happy. Every day, I'll make you happy."
"I have no intention of letting you go easily, something to keep in mind. I don't care if it's another man, your mother, or the powers of hell trying to pry us apart, I'm not easing up and I'm not saying good-bye." (Finale)
And one of my personal favorites....
"I would lay down everything I possess, even my soul, for you. If that isn't love, it's the best I have." (Silence)
Of course there are many, many other reasons to love our Patch Cipriano, and trust me I could go on and on, but I won't. Instead I want to say this.......Patch is one fiercely loyal and de
dicated Angel. He would give up his life, his very soul for the girl he loves. Let's show him some support and help him win this YA Crush Tourney. I know Patch is an Angel, and Patch would never ask this, so don't tell him I am asking you this, Will you be Patch's Guardian Angel and vote for him?? Even Angel's need someone to watch their back!
*************************************************
Polls are now closed.